Another All Saints' Day has come and gone, and it was amazing to get to see all of the saints that your families chose to dress up as! The Catholic All Year team loved getting to look through each and every costume to choose the winners and honorable mentions. So, without further ado, let's get to the good part!
The 1st Place Winners – The Blessed Ulma Family

The 2nd Place Winner – St. Joseph of Cupertino
We're big fans of levitation here!

The 3rd Place Winner – Little Mother Teresa

The Honorable Mentions
Note to honorable mention winners: We decided that you all were so amazing that we couldn't let you go without a prize too! We're gifting you three months of our Venerable Level membership to try if you aren't a current member already! Please contact us at helpdesk@catholicallyear.com to collect your prize.

Saints Peter and Paul
St. George the Dragon Slayer
St. John Bosco
St. Juan Diego, Our Lady of Guadalupe, St. Thérèse, and St. John Paul II
St. Lucy
St. Catherine of Siena
St. Thomas Aquinas
Amazing tonsures! #welovetoseeit
St. Cecilia
St. Pius X
St. Maximillian Kolbe
St. Augustine of Hippo
St. Alphonsus
St. Clare of Assisi
St. Francis of Assisi and St. Michael the Archangel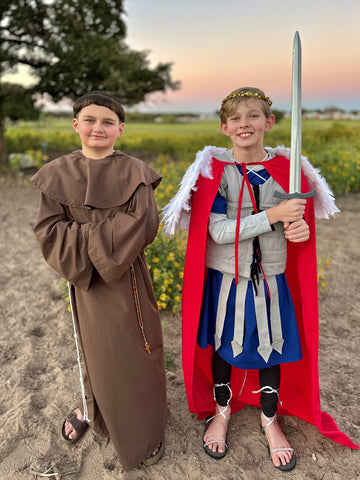 St. Patrick
St. Teresa of Avila, St. Josephine Bakhita, St. Jean Vianney, Pope St. Pius X, St. Kateri Tekakwitha, St. Wenceslaus, Bl. Pier Giorgio Frasatti
St. Damien of Molokai
Shout out to George as St. Michael the Archangel!
Thank you so much to everyone who entered!

Our contest winners each received three months of various tiers of the CAY Membership! Want to learn more?
Check out all of the memberships below!

Wondering what to do with your family for the rest of the month of the Poor Souls in Purgatory? We've got you covered!
Visit a cemetery to pray for the dead from November 1st-8th to recieve an plenary indulgence that can be applied to the Poor Souls! You can find the prayers for your visit in our Visiting a Cemetery Printable Booklet. Learn more about the requirements for gaining an indulgence for the Poor Souls here.
Decorate for the month of November with this All Saints Banner or this Requiescant in Pace Banner!
Meet some new saintly friends with these brand new saint photo cards and photo album.